Sin novedad en el frente
All Quiet on the Western Front
Lewis Milestone
(EE.UU. de América, 1930) [B/N, 133 m.]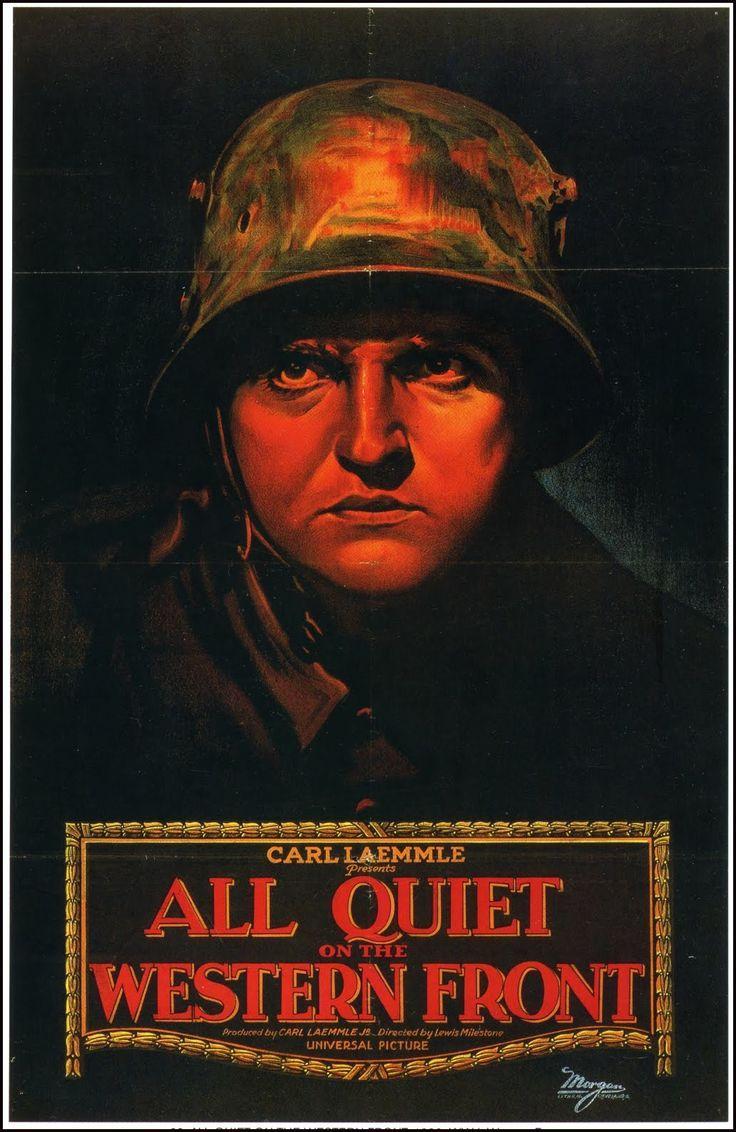 (
Wikipedia
|
Filmaffinity
)
Sinopsis:
[fuente] Mítica película antibélica que plasma los sentimientos, sensaciones y desilusiones de un grupo de jóvenes estudiantes que son enviados al frente en la Primera Guerra Mundial (1914-1918). Es una adaptación de la novela homónima del escritor alemán Erich María Remarque. Su estreno provocó enfrentamientos entre nazis y comunistas.
En

SensaCine

se escribió:Adaptación de la famosa novela antibelicista de Erich María Remarque. Paul Baumer junto a un grupo de estudiantes, se ofrecen voluntarios para el ejército, después de la Primera Guerra Mundial estalle. En la formación de oficiales de reserva se dan cuenta de que la vida de un soldado no es un juego de niños. Sin embargo el espíritu patriótico les termina absorbiendo por completo y deciden experimentar al máximo la crueldad y el belicismo. Tanto es así que todos ellos terminar poniendo en peligro su integridad física y psicológica.
AMG SYNOPSIS: One of the most powerful anti-war statements ever put on film, this gut-wrenching story concerns a group of friends who join the Army during World War I and are assigned to the Western Front, where their fiery patriotism is quickly turned to horror and misery by the harsh realities of combat. Director Lewis Milestone pioneered the use of the sweeping crane shot to capture a ghastly battlefield panorama of death and mud, and the cast, led by Lew Ayres, is terrific. It's hard to pick a favorite scene, but the finale, as Ayres stretches from his trench to catch a butterfly, is one of the most devastating sequences of the decade. The film won Oscars for Best Picture and for Milestone's direction -- and trivia buffs should note that the actors were coached by future luminary George Cukor, while Ayres became a conscientious objector in World War II. The Road Back (1937) followed, and the film was remade for television in 1979. -- Robert Firsching

AMG REVIEW: All Quiet on the Western Front is an anti-war message film, unusual because it is told from the viewpoint of German soldiers fighting in World War I. The film has a stark, unrelenting look to its battleground sequences, and as such it represented an increased level of realism in Hollywood films. The film tends to look dated now, and the performances are sometimes very showy and theatrical. And, as can occur with message films, there is occasional descent into maudlin peachiness. However, at its best, All Quiet on the Western Front contains numerous striking and memorable moments -- none more so than the final scene of a doomed soldier's reaching for a butterfly. -- Richard Gilliam
Ficha técnica
Otros títulos internacionales: À l'ouest rien de nouveau / All'ovest niente di nuovo.
Argumento: Erich Maria Remarque (novela,

Im Westen nicht Neus

, 1929).
Guión: Del Andrews, Maxwell Anderson, George Abbott, Lewis Milestone (no acreditado).
Fotografía: Arthur Edeson, Karl Freund (no acreditado) (B&W).
Música: Sam Perry, Heinz Roemheld (versión muda, no acreditados)
Producción: Carl Laemmle, Jr.
Productora: Universal Pictures.
Reparto:
Lew Ayres (Paul Baumer).
Louis Wolheim (Katczinsky).
John Wray (Himmelstoss).
Raymond Griffith (Gerard Duval).
George "Slim" Summerville (Tjaden).
William Bakewell (Albert).
Russell Gleason (Muller).
Scott Kolk (Leer).
Walter Browne Rogers (Behm).
Ben Alexander (Kemmerick).
Owen Davis, Jr. (Peter).
Harold Goodwin (Detering).
G. Pat Collins (Lieutenant Bertinck).
Richard Alexander (Westhus).
Arnold Lucy (Professor Kantorek).
Edmund Breese (Herr Mayer).
Bill Irving (Ginger).
Marion Clayton (Miss Baumer).
Beryl Mercer (Mrs. Baumer).
Edwin Maxwell (Mr. Baumer).
Yola D'Avril (Suzanne).
Bertha Mann (Sister Libertine).
Joan Marsh (Poster Girl).
ZaSu Pitts ((silent version)).
Pat Collins (Lt. Berlenck).
Daisy Belmore.
Tom London (Orderly).
Vince Barnett (Cook).
Charles "Heinie" Conklin (Hammacher).
David Tyrell.
Robert Parrish.
Fred Zinnemann (Man).
Premios
- 1929: 2 Oscar: Mejor película, director. 4 nominaciones
- 1989: Library of Congress - U.S. National Film Registry
- 1998: American Film Institute - 100 Greatest American Movies
Género:
Drama bélico, Antibelicista, Antimiliitarista / Anti-War Film, Message Movie, PGM, Adaptaciones literarias.
---
BluRay HD 720p VO+S (versión sonora restaurada)
---
Relacionado:
Cine de propaganda (inteligente y sensible): Un cuento de Canterbury (Michael Powell, Emeric Pressburger, 1944) / Vol.1. The First Days 1934-1940 (2011) / Vol.2. Fires Were Started 1941-1943 (2012) / Vol.3. A Diary for Timothy 1944-1950 (2013)

Otra mirada sobre la guerra, los conflictos y sus secuelas: Fuego en la nieve (William A. Wellman, 1949) / Stromboli (Roberto Rossellini, 1950) / Hiroshima, mon amour (Alain Resnais, 1959) / La infancia de Iván (Andrei Tarkovsky, 1962) / Sibila (Serge Bourguignon, 1962) / Good Times, Wonderful Times (Lionel Rogosin, 1966) / Corazones y mentes (Peter Davis, 1974) / Lacombe Lucien (Louis Malle, 1974)

Cine bélico antibelicista y/o antimilitarista: La colina de los diablos de acero (Anthony Mann, 1957) / El puente (Bernhard Wicki, 1959) / La colina (Sidney Lumet, 1965) / Johnny cogió su fusil (Dalton Trumbo, 1971) / Días de gloria (Rachid Bouchareb, 2006)
---
Salud.
[ Add all 3 links to your ed2k client ]