El mundo conectado
Welt am Draht
Rainer Werner Fassbinder
(Alemania Occidental, 1973) [205 min]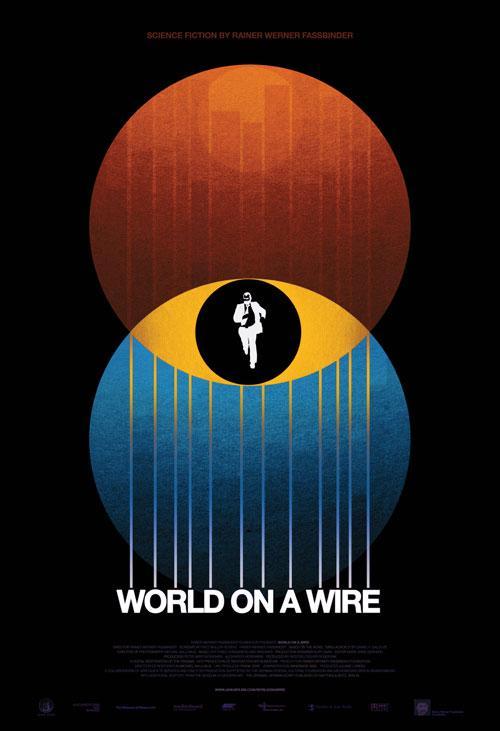 (
Wikipedia
I
Filmaffinity
)
Sinopsis:
[fuente] El profesor Vollmer dirige un equipo de investigación para predecir cómo será la sociedad del futuro. Para ello ha creado un modelo con muñecos, cuyas evoluciones estudia a través de cámaras de televisión. Tras una situación inesperada, inquietantes consecuencias abordarán al experimento: uno de los muñecos se ha infiltrado en el mundo real.

Adaptación televisiva -Telefilm dividido en 2 episodios- de R.W. Fassbinder de una novela de ciencia ficción de Daniel F,. Galouye.
El profesor Vollmer trabaja en un ambicioso proyecto de investigación con un ordenador, que hace una simulación de un 'pequeño mundo' para predecir cómo será la sociedad del futuro. La evolución del sistema está monitorizada mediante cámaras de televisión. Pero las cosas se complican con la misteriosa muerte de Vollmer. Le sucede al frente del proyecto Stiller, que tendrá que enfrentarse a una situación inesperada: uno de sus 'contactos' dentro del ordenador quiere entrar en el mundo real.

Adaptación televisiva de R.W. Fassbinder de una novela de ciencia ficción de Daniel F. Galouye. La ambientación ofrece un futuro no muy diferente al de la época, un poco al estilo de filmes como

"2001: Una odisea del espacio"

y

"Fahrenheit 451"

. En el fondo no es una novedad con respecto a otros trabajos del cineasta, pues al final tenemos crítica social pura y dura, aceptación de roles impuestos por la inercia de las costumbres, y elementos que vienen a romper ese precario equilibrio. Pues entre las sorpresas que depara el film está la del cuestionamiento de nuestra propia sociedad, la idea de que también nosotros somos muñecos manejados por otros, no es fácil decir en qué consiste la realidad. Un planteamiento semejante, muchos años después. daría mucho que hablar en una película llamada...

"Matrix"

.
AMG SYNOPSIS: A scientist in charge of a project that could usher in a bold new era of technology begins experiencing signs of mental illness that may indicate the onset of schizophrenia, but could be the bold first step in merging man and machine in Rainer Werner Fassbinder's mind-bending sci-fi classic. The "Simulacron 1" project was designed by The Institute for Cybernetics and Futurology to predict the events of the future with uncanny accuracy. Though the benevolent scientists in charge of the project envision the "Simulacron 1" being used to improve living conditions for all the people of planet Earth, other, less altruistic people see it as a source of unparalleled power. The future of the project comes into question, however, when its mastermind, Professor Vollmer, dies unexpectedly. Attributing his death to suicide due to his strange behavior in recent weeks, institute head Herbert Siskins quickly places the capable Dr. Fred Stiller in charge of the project. But it isn't long before Dr. Stiller, too, begins to display signs of mental instability that seem to indicate the early stages of schizophrenia. Now, the deeper Dr. Stiller immerses himself in the project, the more he begins to see signs of life in the electronic 'identity units' of the "Simulacron 1." As the "identity units" begin to take on the appearance of someone he knows, the line between technology and humanity becomes indistinguishable. -- Jason Buchanan
En Criterion se escribió:World on a Wire is a gloriously paranoid, boundlessly inventive take on the future from German wunderkind Rainer Werner Fassbinder. With dashes of Stanley Kubrick, Kurt Vonnegut, and Philip K. Dick, Fassbinder tells the noir-spiked tale of reluctant hero Fred Stiller (Klaus Löwitsch), a cybernetics engineer who uncovers a massive corporate conspiracy. At risk? (Virtual) reality as we know it. Originally made for German television, this recently rediscovered, three-and-a-half-hour labyrinth is a satiric and surreal look at the world of tomorrow from one of cinema's kinkiest geniuses.
Ficha técnica
Guión: Rainer Werner Fassbinder, Fritz Müller-Scherz (Novela: Daniel F. Galouye).
Música: Gottfried Hüngsberg.
Fotografía: Michael Ballhaus, Ulrich Prinz.
Productora: Westdeutscher Rundfunk (WDR).
Reparto:
Klaus Löwitsch.
Barbara Valentin.
Mascha Rabben.
Karl Heinz Vosgerau.
Wolfgang Schenck.
Günter Lamprecht.
Ulli Lommel.
Adrian Hoven.
Ivan Desny.
Joachim Hansen.
Género:
Telefim, Ciencia ficción, Drama psicológico / Esquizofrenia, Adaptaciones literarias.
---
DVDRip VO+S - AVI (XviD+MP3) [2.19 Gb.]
(Publicada por Daeron en KG, emulizada por geraliolucero)
---
BDRip VO+S (Criterion) - MKV (X264/AVC+AAC) [2.57 Gb.]
---
BluRay HD 720p VOS (Criterion) (X264/AVC+AC3 2.0) [8.74 Gb]
---
Relacionado:
---
Salud.
[ Add all 3 links to your ed2k client ]