El manantial de las colinas
Jean de Florette
Claude Berri
(Francia, Italia, Suiza; 1986) [Color, 120 m.].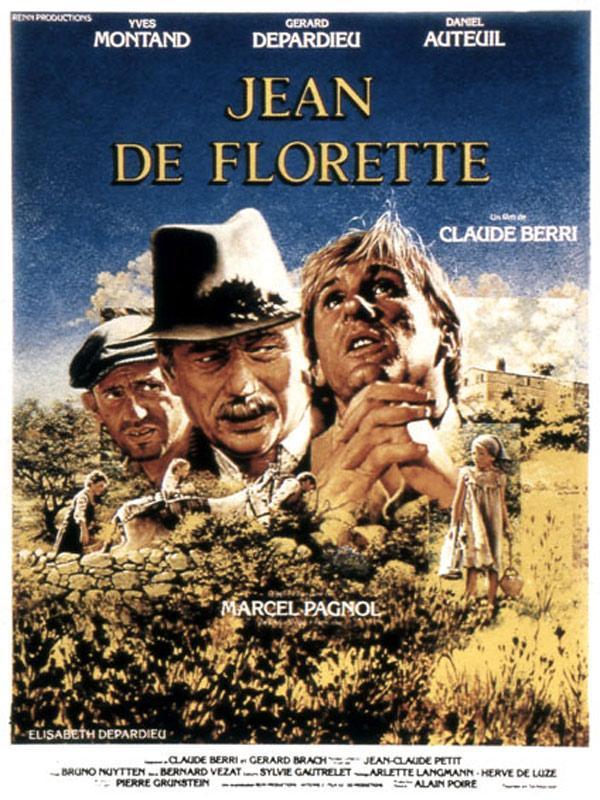 (
wikipedia
|
filmaffinity
)
Sinopsis:
[fuente] Un campesino francés y su familia sufren las calamidades de una prolongada sequía y las presiones de un despiadado terrateniente que quiere comprarles la tierra. Para lograrlo, les anega un pozo de agua.
En DeCine21

se escribió:Drama sobre la esperanza y la envidia, uno de los grandes títulos del cine francés.
La Provence, vers le milieu des années vingt. Le Papet et son neveu Ugolin vivent dans les collines, juste au-dessus du village dit " Les Bastides blanches". Ugolin a un grand projet: faire pousser des oeillets. Mais, pour ce faire, il faut beaucoup d'eau... Avec la complicité de son oncle, Ugolin envisage donc d'acquérir un petit mas, un peu plus haut, dont le terrain renferme une source importante. Mais ce mas, jusque-là inhabité, revient en héritage à un certain Jean de Florette, percepteur à la ville. Ce dernier va bientôt arriver, avec son épouse Aimée et leur petite fille, Manon.

A l'annonce de la nouvelle, le Papet et Ugolin ont conçu un plan diabolique: ils ont complètement bouché la source, pour obliger Jean de Florette à aller chercher son eau beaucoup plus loin, le décourager et le forcer à revendre sa maison. Cependant, Jean de Florette est beaucoup plus tenace qu'ils ne croyaient: c'est un travailleur acharné, qui s'aide de tous les livres d'agriculture pour exploiter sa petite ferme, et n'hésite pas à faire des kilomètres pour trouver de l'eau! Ugolin commence même à s'attendrir. Son oncle le pousse à tenir bon. Et, un beau jour, de plus en plus épuisé, Jean de Florette saute avec une charge de dynamite qu'il avait lui-même placée sur son terrain, pour essayer de trouver de l'eau... Pour le Papet et Ugolin, cet événement dramatique est une victoire, mais, alors même qu'ils se ruent vers la source pour la rouvrir, la petite Manon les surprend. Déjà, elle a tout compris, et elle reviendra. (Monsieur Cinéma)

Anecdote

. " L'eau des collines ", l'oeuvre de Marcel Pagnol dont est tiré JEAN DE FLORETTE, et qui a paru en 1963, comporte deux parties: " Jean de Florette " et " Manon des sources". Pagnol avait écrit une partie de l'histoire dix ans avant et en avait fait lui-même un film: MANON DES SOURCES (1952), dont l'interprète principale était son épouse, Jacqueline Pagnol. "Jean de Florette" n'avait donc jamais été filmé et, très ému par ce roman, le cinéaste Claude Berri en a demandé les droits à Jacqueline Pagnol Celle-ci, d'abord réticente, a accepté en voyant les essais tournés avec Yves Montand. Claude Berri s'est donc lancé dans cette entreprise monumentale en divisant lui aussi son film en deux parties (MANON DES SOURCES, suite de JEAN DE FLORETTE, sortant trois mois plus tard). Le film, tourné pendant près de 9 mois en Provence, a connu un grand succès public.
AMG Synopsis: Co-adapted by director Claude Berri from a novel by Marcel Pagnol, this hugely successful French historical drama concerns a bizarre battle royale over a valuable natural spring in a remote French farming community. City dweller Jean Cadoret (Gérard Depardieu) assumes ownership of the spring when the original owner is accidentally killed by covetous farmer Cesar Soubeyran (YVES MONTAND). Soubeyran and his equally disreputable nephew Ugolin (Daniel Auteuil) pull every dirty trick in the book to force Cadoret off his land, but the novice farmer stands firm. Although the Soubeyrans appear to gain the upper hand, the audience is assured that they will eventually be foiled by the vengeful daughter of the spring's deceased owner -- thus setting the stage for the film's equally successful sequel, MANON OF THE SPRING. -- Hal Erickson

AMG Review: The plot of Jean de Florette is as melodramatic as any soap opera, but its treatment is just a little askew, just off-center enough for the film to evolve into a moving and powerful pastoral tragedy. The film is a naturalistic story about the dehumanizing effect of greed on a community and on the human soul. Watching the hunchbacked Jean de Florette (Gérard Depardieu) struggle against all odds to keep his small farm alive, maintaining to the bitter end his optimism and naïve faith in his reference books, is like watching Sisyphus make his daily toil up the hill. Only here, it is not the gods who have trapped the victim, but the xenophobia and covetousness of his neighbors. Director Claude Berri shoots the countryside in grand scope, dwarfing the human figures whose daily exertions hardly make a mark on it. As the story moves inexorably to its tragic conclusion, the wicked plotting of the simultaneously likable and vicious father (Yves Montand) and son (Daniel Auteuil) leaves the audience pleading for divine retribution. However, humans created this cruel world in Provence, and they will have to mete out their own justice. The sequel, Manon of the Spring, realizes this desire for revenge with perfectly poetic magnitude. Nominated for nine British Academy Awards (BAFTA) in 1988, Jean de Florette took home three awards. -- Dan Jardine
Ficha técnica
Guión: Claude Berri, Gérard Brach; basado en la novela de Marcel Pagnol.
Fotografía: Bruno Nuytten.
Música: Jean-Claude Petit.
Producción: Pierre Grunstein, Alain Poiré.
Productora: DD Productions / Films A2 / Radiotelevisione Italiana (RAI) / Renn Productions / Télévision Suisse-Romande (TSR).
Reparto:
Yves Montand (César Soubeyran, ''le Papet'').
Gérard Depardieu (Jean Cadoret, ''Jean de Florette'').
Daniel Auteuil (Ugolin).
Elisabeth Depardieu (Aimée Cadoret).
Guillaume Depardieu.
Ernestine Mazurowna (Manon).
Margarita Lozano (Baptistine).
Armand Meffre (Philoxéne).
André Dupon (Pamphile).
Pierre Nougaro (Casimir).
Jean Maurel (Anglade).
Roger Souza (Ange).
Didier Pain (Eliacin).
Marc Betton (Martial).
Género:
Drama rural / Adaptaciones literarias.
Premios:
- 1987: Premios BAFTA: Mejor película.
---
BDRip VOS - MKV
(publicada por IoNeL
en sharethefiles
y el tío del sombrero
en DXC
)
[Français]Jean.De.Florette.(1986).BDRip.AC3.X264-TLF.mkv [1.37 Gb]

Subtítulos: castellano europeo (opensubtitles) / inglés (opensubtitles).
(1) Subs en castellano europeo, sincronizados y corregidos a partir de los subidos por

shoocat

para la versión "

Jean.De.Florette.1986.INTERNAL.DVDRip.XviD-RiZZ_CN

".
(2) Subs en inglés subidos por

subshare

de Blu-Ray. Estaban sincronizados con el ripeo de TLF, con algunas correcciones de OCR.

Subtítulos (

otras opciones, para sincronizar

): castellano (opensubtitles) (neutro) / castellano (subdivx) (argentino).
(1) Subs de aRGENTeaM, para la versión "

Jean de Florette (1986-7.9).xvid

", 23,976 fps. Se trata de una traducción distinta a la anterior, probablemente ripeada de Dvd.
(2) Subs argentinos subidos por

carlmart

, "

Español rioplatense. Sincronizado para la versión 720p.BluRay.x264-FHD. Corregidos todos los verbos, pronombres y algunas palabras

". Ajustan bastante bien con el ripeo de TLF.
---
Relacionado:
---
Saludos.