Larga jornada hacia la noche
Long Day's Journey Into Night
Sidney Lumet
(EE.UU. de América, 1962) [B/N, 170 m.].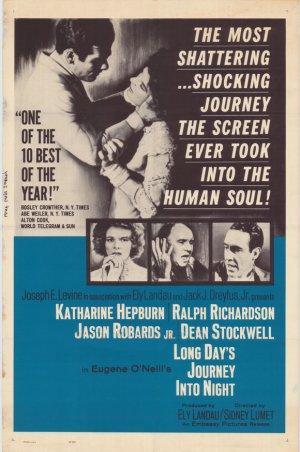 (
Wikipedia
|
Filmaffinity
)
Sinopsis
[fuente] Adaptación del drama teatral homónimo de Eugene O'Neill, que tiene un carácter claramente autobiográfico. Describe un ambiente familiar deprimente y explosivo: una madre, que después de una larga estancia en un hospital, se ha vuelto adicta a la morfina; un hermano sumido en el alcoholismo e incapaz de encontrar trabajo, y un padre insensible y mezquino que ha fracasado como actor, llevando la familia a la ruina.
En Cine Archivo se escribió:El retorno de Edmund Tyrone, convertido en un joven escritor, a su hogar familiar en Nueva York, le devuelve una realidad dura y difícil. Su madre Mary, convive con su adicción a la morfina, mientras que su padre James, lucha con los fantasmas de la frustración como actor teatral que le ha perseguido a lo largo de los años. Ante esta desagradable realidad, Edmund se refugia en el alcohol, circunstancia que provocará un contínuo enfrentamiento con su padre, devoto de la prosa de Shakespeare.
AMG SYNOPSIS: Playwright Eugene O'Neill sold Random House the text of his intensely autobiographical 1941 play on the proviso that the play not be produced during O'Neill's lifetime. Two years after the playwright's death in 1953, the play was given its first Broadway staging and won a Pulitzer Prize. Set in 1912 New England, the story takes place in the summer home of aging actor James Tyrone (Ralph Richardson) and his family. Tyrone, patterned after Eugene O'Neill's father James O'Neill, has long abandoned any aspirations to be a truly great actor, choosing instead to tour in the same weary stage vehicle year after year. Thanks to an earlier act of stinginess on Tyrone's part, his wife Mary has turned into a rambling morphine addict, with little or no contact with reality. Oldest son Jamie is a troublemaking alcoholic, envious of the writing talent of sickly younger brother Edmund (the Eugene O'Neill counterpart). The long's day journey concludes with a hellish night in which the three Tyrone men sit about drunkenly as Mary Tyrone hallucinates about her younger, happier days. Katharine Hepburn emerged from a three-year retirement to essay the back-breaking role of Mary Tyrone; Ralph Richardson exhumed all the "ham" of his student-actor days to portray the pathetic James Tyrone; Jason Robards Jr., a man seemingly put on this earth to interpret O'Neill, repeats his Broadway role as Jamey; and Dean Stockwell adds one more superb characterization to his gallery of portrayals as the tubercular Edmund. -- Hal Erickson

AMG REVIEW: Long Day's Journey Into Night is one of the screen's most insightful examinations of lives caught in a downward cycle of co-dependency and despair. Working from the highly autobiographical stage play by Eugene O'Neill, director Sidney Lumet keeps the material interesting despite a 174-minute running time, and cinematographer Boris Kaufman contributes a distinctively angular, shadowy atmosphere. The performances are well-matched to the material, notably Katherine Hepburn in an unusual role as the drug-addicted mother. Since the play is, by its nature, confined to a single indoor setting, Lumet never manages to break free of the feeling that he is presenting a stage play; nonetheless, this is among the best-acted, best-written films of its era. -- Richard Gilliam
Otras referencias


- Long Day's Journey Into Night (1962, Sidney Lumet). Largo viaje hacia la noche. Cinema de Perra Gorda.
- Larga jornada hacia la noche. (Long Day's Journey into Night de Sidney Lumet, 1962). El blog de Ethan.
- "El «Testamento» de O'Neill», por Christian Aguilera. Cine Archivo.
- "Recuerdo de Sidney Lumet (1926-2011)", por J.D. Cáceres Tapia. Miradas de Cine, nº 109 (abril 2011).
Ficha técnica
Otros títulos internacionales: Largo viaje de un día hacia la noche / Long voyage vers la nuit / Il lungo viaggio verso la notte.
Dirección: Sidney Lumet.
Argumento: Eugene O'Neill (teatro/autobiografía,

Long Day's Journey Into Night

).
Guión: Eugene O'Neill.
Fotografía: Boris Kaufman (B&W).
Música: André Previn.
Producción: Ely A. Landau, Jack J. Dreyfus Jr., Joseph E. Levine.
Productora: Republic Pictures.
Reparto:
Katharine Hepburn (Mary Tyrone).
Ralph Richardson (James Tyrone).
Jason Robards (Jamie Tyrone).
Dean Stockwell (Edmund Tyrone).
Jeanne Barr (Kathleen).
Premios:
- 1962: Nominada al Oscar: Mejor actriz (Katharine Hepburn).
- 1962: 2 premios en Festival de Cannes: Mejor Actriz (Katharine Hepburn), actor.
Género:
Drama familiar / Drogas, Alcoholismo, Adaptaciones literarias (teatro), Autobiografía.
---
BDRip VO+S - MKV
---
BluRay HD 720p VO+S
---
Relacionado:
---
Salud.
[ Add all 2 links to your ed2k client ]