El hijo de Rambow
Son of Rambow
Garth Jennings
(Gran Bretaña, Francia, RFA; 2007) [Color, 96 m.].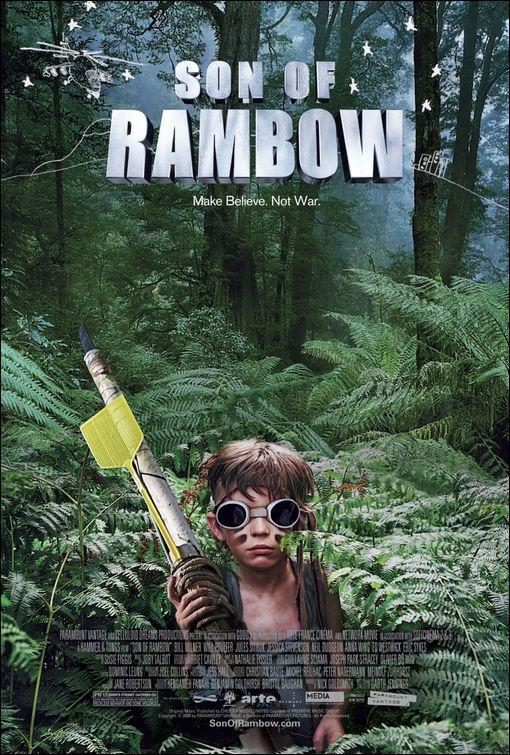 (
Wikipedia
|
Filmaffinity
)
Sinopsis:
[fuente] Historia ambientada en la década de los 80, sobre un grupo de niños ingleses que deciden recrear la primera película de Rambo.
Comentario personal:
Canibalizando a "Rambo". Inteligente y extraordinariamente divertida.
Francisco Marinero, en

El Mundo

, escribió:Imaginativa, gamberra, cinéfila, siniestra y brillante (...) Jennings se confirma como el casi equivalente británico a Tim Burton en un cuento con algo de autobiográfico, realista y fantástico (...) Puntuación: **** (sobre 5).
En SensaCine se escribió:En el verano de los años 80, en una ciudad del interior de Inglaterra, dos jóvenes totalmente diferentes se juntan para producir una película inspirada en el personaje de Rambo. Will Proudfoot, huérfano de padre, es el hijo mayor de una familia tradicional y religiosa que sigue normas muy rígidas de conducta. Lee Carter es un niño travieso, conocido en el colegio por hacer películas caseras un tanto peculiares. Cuando los niños se conocen, Lee le enseña a Will una copia de la película "Rambo- Programado para matar" (First Blood / Acorralado, 1982) y juntos, comienzan una gran aventura.
AMG SYNOPSIS: As the summer sun shines down on England in the early 1980s, two boys who couldn't be more different are brought together by a mutual love of cinema and a desire to emulate their favorite action movie icon. Will Proudfoot (Bill Milner) is a well-mannered schoolboy being raised in an ultra-religious community that deplores such corruptive distractions as television and seeks to maintain its purity by severely limiting contact with the outside world. In order to exorcise his creative inner demons, Will has taken to sketching imaginative drawings and complex illustrations. Lee Carter (Will Poulter) is the school terror, a rampaging hellion whose overaggressive behavior has made him an endless source of frustration to the faculty, and a source of fear to his fellow classmates. As fate would have it, Will is in the school hallway avoiding exposure to the classroom television when a fed-up teacher ejects Lee from the classroom. Though at first it appears as if Lee is about to torment timid Will just as he does the rest of the student body, the two form a tight bond after Will convinces Lee to view a bootleg copy of Rambo: First Blood. When Lee informs Will that he wants to shoot a homebrewed version of the violent action film for an upcoming amateur filmmaking contest, a sudden streak of rebellion prompts his sheltered classmate to readily agree. As the summer wears on the two boys set out to create the ultimate no-budget action movie, but their grand vision hits an unexpected hitch when a busload of French exchange students arrive at the school and the leader of the pack attempts to hijack the production. -- Jason Buchanan
Ficha técnica
Otros títulos internacionales: Le fils de Rambow.
Guión: Garth Jennings.
Fotografía: Jess Hall (Color / Panavision, anamorphic).
Música: Joby Talbot.
Producción: Nick Goldsmith, Trevor Evans, Christian Baute, Peter Nadermann, Michel Reilhac, Meinolf Zurhorst, Bristol Baughan, Benjamin Goldhirsh, Hengameh Panahi.
Productora: Celluloid Dreams / Good Film Productions (presents) / Hammer & Tongs / Network Movie Film-und Fernsehproduktion / Reason Pictures / Soficinéma 2 & 3 / Zweites Deutsches Fernsehen (ZDF) / arte France Cinéma.
Reparto:
Bill Milner (Will).
Will Poulter (Lee Carter).
Jules Sitruk (Didier Revol).
Jessica Stevenson (Mary Proudfoot).
Charlie Thrift (Duncan).
Neil Dudgeon (Joshua).
Zofia Brooks (Tina).
Tallulah Evans (Jess).
Adam Godley (Brethren Leader).
Género:
Comedia dramática, Aventuras / Infancia, Adolescencia, Cine dentro del cine.
Premios:
- 2008: Premios BAFTA: Mejor debut (Garth Jennings).
---
DVDRip VE - AVI
(
fuente
)
---
DVDRip Dual - AVI
(
fuente
)
---
BluRay HD 720p VO+S - MKV
---
BDRip VO+S - MKV
Son.of.Rambow.2007.BD.MiniSD-TLF.mkv [920.09 Mb]

Subtítulos: los anteriores (comprobados) / el contenedor mkv incluye subs en inglés para sordos (con algunos errores OCR) y chino.

[NOTA: el ripeo tiene 2 frames corruptos en torno a 01:35:33. Me he dado cuenta al sacar las capturas, durante la reproducción en TV resultó inapreciable.]
---
Relacionado:
Infancia


Little Fugitive (Ray Ashley, Morris Engel, Ruth Orkin; 1953)
Veinticuatro ojos (Keisuke Kinoshita, 1954)
Los cuatrocientos golpes (François Truffaut, 1959)
Buenos días (Yasujirô Ozu, 1959)
La infancia de Iván (Andrei Tarkovsky, 1962)
El señor de las moscas (Peter Brook,1963)
Trilogy (Bill Douglas, 1972-78)
Padre patrón (Paolo y Vittorio Taviani, 1977)
El largo día acaba (Terence Davies, 1992)
Ratcatcher (Lynne Ramsay, 1999)
In America (Jim Sheridan, 2002)
El niño de la bicicleta (Jean-Pierre y Luc Dardenne, 2011)
Bestias del sur salvaje (Benh Zeitlin, 2012)
Broken (Rufus Norris, 2012)
Wadjda (La bicicleta verde. Haifaa Al-Mansour, 2012)
---
Salud.
[ Add all 3 links to your ed2k client ]