A nuestros amores
À nos amours
Maurice Pialat
(Francia, 1983) [Color, 95 m.].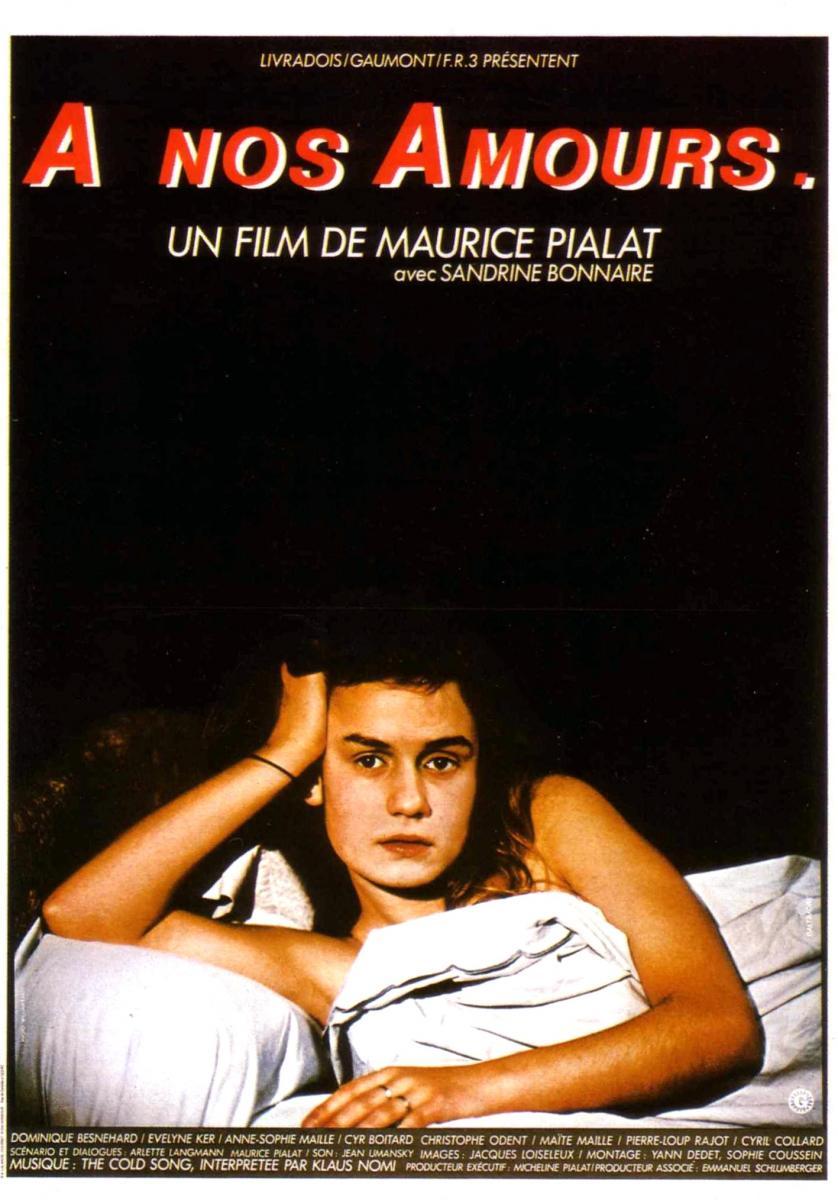 (
Wikipedia
|
Filmaffinity
)
Sinopsis:
[fuente] Suzanne (Bonnaire) es una joven de quince años que, a pesar de su edad, tiene una vida sexual muy activa, pero sus relaciones con los chicos no van más allá del sexo. Su ambiente familiar no es armónico: tiene una madre neurótica, un padre al que no le gusta su manera de ser y un hermano que la golpea.
En Institut Français

se escribió:Incapaz de entregarse emocionalmente a su pretendiente, la joven Suzanne (interpretada por Sandrine Bonnaire, en su primera y excepcional incursión cinematográfica), no duda en acostarse con un americano al que conoce en una cálida noche estival. A partir de este momento la joven se entregará con pasión a furtivos encuentros sexuales con diversos hombres, aunque eludiendo el amor y enmascarando sus emociones. En estos affaires Suzanne hallará una vía de escape a los tormentos que padece en casa, en la que convive con una madre histérica (Evelyne Ker), un padre que pronto desaparecerá de escena (Maurice Pialat), y un hermano autoritario y violento (Dominique Besnehard), incapaz de tomar las riendas paternas...

Memorable film sobre la educación sentimental de una adolescente a partir de la prodigiosa captura de sus gestos, sus miradas, sus sonrisas y sus silencios.
AMG SYNOPSIS: Director, co-writer, and star Maurice Pialat brought his typically unblinking New Wave style and interest in socially aberrant behavior to this psychological drama, winner of two Cesars (the French equivalent of the Oscar) for Best Film and Most Promising Young Actress (Sondrine Bonnaire). Bonnaire plays Suzanne, a 15-year-old girl who has become sexually promiscuous with anyone who will have her, despite her lack of affection for any of her lovers. The only boy she refuses is Luc (Cyr Boitard), whose feelings for Suzanne are sincere. When Suzanne's beloved father (Pialat) abandons his increasingly neurotic wife (Evelyne Ker), Suzanne's depression and lack of direction deepen. While her mother becomes a screeching mental case, her brother Robert (Dominique Besnehard) begins beating her, although he also harbors a disturbing attraction to Suzanne. In the denouement, Pialat depicts the devastating long-term results of Suzanne's abusive upbringing. Pialat draws powerful performances from his cast, with no finer example than the riveting acting Bonnaire -- in only her second film. -- Karl Williams

AMG REVIEW: Maurice Pialat elicited an award-winning performance from fledgling actress Sandrine Bonnaire in this brilliantly penetrating examination of the life of an unhappy teenaged girl. Near the end of the film, Pialat, who also plays the father of this girl who seems so incapable of love, says to her, "Some can love." "Not many," she replies, echoing Freud's saturnine assessment of the human race. The director eschews conventional dramatic structure, opting instead to carve out a cross-section of moments in the life of his heroine so fresh as to seem improvised. Except for the boy who loves her, the magnetically attractive 16-year-old Suzanne (Bonnaire) is on a mission to have sex with any male who interests her. She enjoys flaunting her sexual powers, yet, unable to become emotionally involved with any boy, she becomes increasingly more depressed. In what may seem a conservative but not implausible take on her angst, the film begins to connect it with her family's slow disintegration. Her mother (Evelyne Ker), a raving, puritanical hysteric, mercilessly abuses the girl for her behavior, with the help of her like-minded brother. Although only the tip of the iceberg is revealed, it's no surprise that her more temperate father, who is also the girl's confidant, is leaving the family for another woman. In a startling pre-wedding scene which offers a sliver of perspective on these clouded relationships, Pialat seems to assure the family's demise. At the film's end, nothing about this girl is clearer than it was at the beginning, yet one has an abiding feeling that she's been sentenced to an emotional gulag. -- Michael Costello
Otras referencias


- "Los amores de una rubia", por Santiago Andrés Gómez.

Kinetoscopio

, Vol. 3 – nº 15 (septiembre–octubre, 1992), pp. 99-109.
Reproducido en Madera Salvaje, Especial Pialat (1): "À nos amours" (1983)".
- "El cine independiente francés. Les enfants perdus: Pialat, Eustache, Doillon y Garrel", por Beltrán Labruny. Miradas de Cine, nº 121 (abril 2012).
Ficha técnica
Otros títulos internacionales: To Our Loves / Ai nostri amori.
Guión: Maurice Pialat, Arlette Langmann.
Fotografía: Jacques Loiseleux (Color).
Música: Henry Purcell ("The cold song").
Producción: Daniel Toscan du Plantier, Emmanuel Schlumberger, Micheline Pialat.
Productora: Les Films du Livradois / Gaumont / France 3 (FR 3).
Reparto:
Sandrine Bonnaire (Suzanne).
Evelyne Ker (la mère).
Dominique Besnehard (Robert).
Maurice Pialat (le père).
Anne-Sophie Maillé (Anne).
Maïté Maillé (Martine).
Christophe Odent (Michel).
Pierre-Loup Rajot (Bernard).
Pierre Novion (Adrien).
Alexandre De Dardel (Alex).
Jean-Paul Camail (Angelo).
Caroline Cibot (Charline).
Vanghel Theodorou (Claude).
Tsilka Theodorou (Fanny).
Hervé Austen (Freddy).
Caroline Legendre (Geraldine).
Eric Viellard (Henri).
Jacques Fieschi (Jacques).
Cyril Collard (Jean-Pierre).
Tom Stevens (l'américain).
Anne-Marie Nivelle (la mère de Jean-Pierre).
Paul Lugagne (le directeur).
Gwennolé Laurent (le moniteur).
Cyr Boitard (Luc).
Valérie Schlumberger (Marie-France).
Nathalie Gureghian (Nathalie).
Alexis Quentin (Richard).
Isabelle Prade (Solange).
Loïc Ermel (un marin).
Claude Blachowiak (un marin).
Premios:
- 1984: Festival de Berlín: Sección oficial de largometrajes.
Género:
Drama psicológico, Drama familiar / Adolescencia, Sexualidad, Malos tratos.
---
DVDRip VO+S (Criterion) - AVI
(Publicada por fishburne
en FH
.)
---
BDRip VO+S - MKV
---
BluRay HD 720p VO+S - MKV
---
Relacionado:
---
Salud.
[ Add all 4 links to your ed2k client ]