Quills
Philip Kaufman
(Gran Bretaña, EE.UU. de América, RFA; 2000) [Color, 124 m.].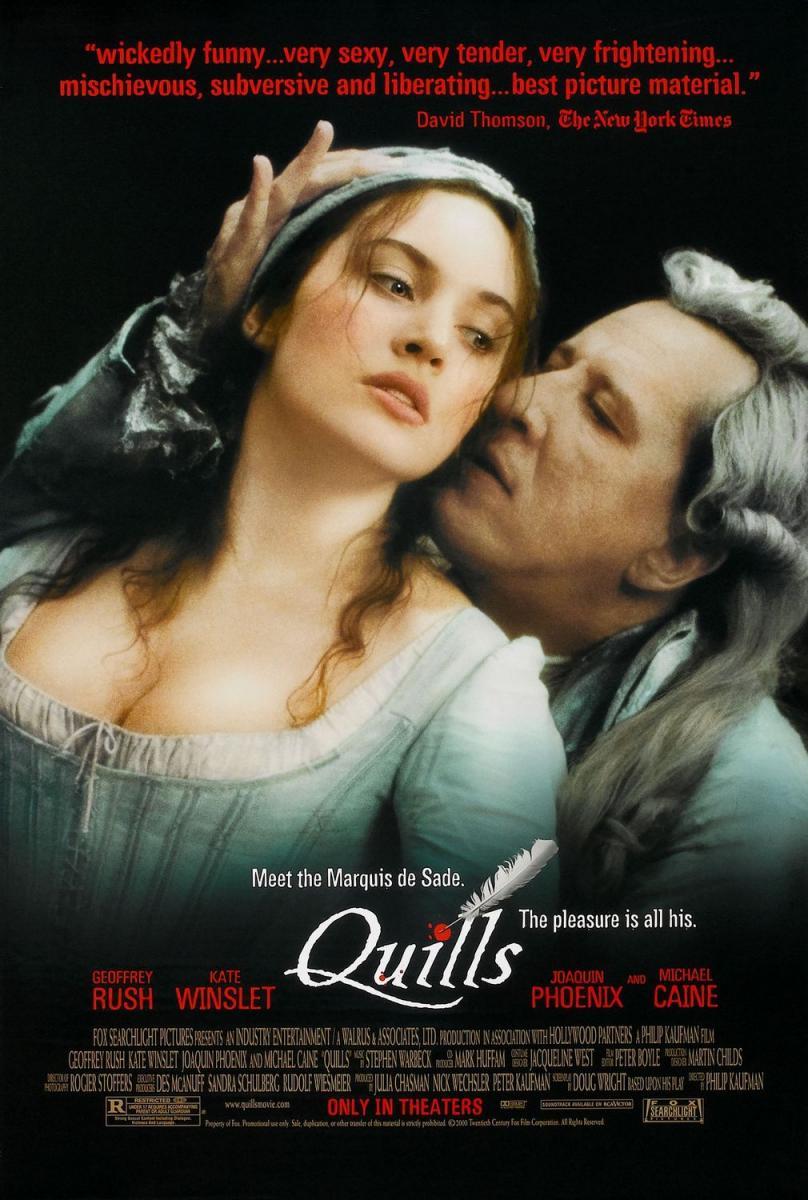 (
wikipedia
|
filmaffinity
)
Sinopsis:
[fuente] Francia siglo XVIII. El Marqués de Sade pasa los diez últimos años de su vida en el asilo Charenton. Allí entabla amistad con el abate Coulmier, con el que comparte el afecto de Madeleine, la lavandera del asilo. Cuando Napoleón envía a un médico para que cure su presunta locura, el temperamento rebelde del marqués se agudiza todavía más. Obtuvo tres nominaciones a los Oscar, incluyendo el de mejor actor (Geoffrey Rush).
Omar Khan, en

Cinemanía

, escribió:Relato fascinante (...) La descomunal actuación de Rush, situado en el punto exacto en el que converge locura y genialidad, es la gran atracción de este sólido y emocionante filme (...) Puntuación: **** (sobre 5).
En

SensaCine

se escribió:Drama histórico ambientado en la época napoleónica que narra la vida del Marqués de Sade. Éste indaga, con su pluma, en las pasiones de los hombres, los impulsos sexuales, y los deseos inmorales. Cuando es internado en el asilo Charenton por su supuesta locura, continúa sus escritos, los cuales llegan al público gracias a Madeleine Leclerc, una joven e inocente lavandera. Ésta, además, cumple las fantasías más salvajes del escritor.
AMG SYNOPSIS: The Marquis de Sade was a man who liked to stir up trouble, at a time when his native France was in a state of tremendous political turmoil, and this historical drama examines how much controversy he could cause even under repressive circumstances. In the aftermath of the French Revolution, the Marquis de Sade (Geoffrey Rush) manages to narrowly escape execution during the Reign of Terror, and instead is sentenced to the Charenton Asylum for the Insane. Coulmier (Joaquin Phoenix), the priest who heads the asylum, is sympathetic to the political machinations that have put the Marquis in his care, and allows him not only to write what he pleases, but to stage theater pieces using the other patients as actors. Royer-Collard (Michael Caine), a tyrannical doctor overseeing the mental institutions of Napoleonic France, is as outraged as the emperor when he reads Justine, a scabrous volume the Marquis penned while an inmate at Charenton, and he demands that de Sade be stopped. But Royer-Collard soon learns that stopping the Marquis from writing is not so simple; when de Sade's quills and ink are taken from him, he uses wine and even his own blood to write his stories. When these options are no longer available, he dictates his work with the help of Madeline (Kate Winslet), a laundry girl working at the asylum, who is fascinated by the notorious de Sade, though she declines his frequent requests to satisfy his notorious sexual appetites. Based on the play by Doug Wright (who also penned the screenplay), Quills was directed by Philip Kaufman, who previously documented the line between eroticism and literature in Henry and June and The Unbearable Lightness of Being. -- Mark Deming

AMG REVIEW: Philip Kaufman's taut, economical dramatization of the latter years of the Marquis de Sade may sacrifice historical accuracy in the name of high entertainment, but makes for essential viewing nonetheless, thanks in large part to the bold, uncompromising work of lead Geoffrey Rush. All of Rush's film work to date seems to inform his rendering of de Sade: the mania, desperation, and dogged conviction he displayed (with varying degrees of success) in films such as Shine (1996), Children of the Revolution (1996), and Elizabeth (1998) are all in perfect balance here. In a return to form after 1993's dismal Rising Sun, Kaufman seems determined to transcend the stage origins of Doug Wright's screenplay, employing cunning camerawork, convincingly decrepit locales, and crisp editing in order to keep the film's forward momentum from sagging. Still, packed as it is with clever turns of phrase and convenient plot developments, Quills could never be mistaken for a loose, realistic take on the vilified author's life (those in search of a more factual take on the Marquis should look to the 1966 film version of Peter Weiss's play Marat/Sade). Rather, Quills provides a juicy, almost old-fashioned moviegoing experience -- albeit with all the lurid sex, masochism, and graphic feces afforded by this century's censors. -- Michael Hastings
En

Allociné

se escribió:Le Marquis de Sade explore, par sa plume, le côté interdit de l'homme : les passions obscènes du corps, les pulsions sexuelles, les désirs immoraux. Au début du XIXème siècle, il est considéré comme l'être le plus perfide, le monstre le plus abject, mais aussi comme l'homme le plus libre d'esprit que le monde ait connu.

Les frasques du Marquis de Sade ont eu raison de sa liberté et de sa santé mentale. Alors qu'il est au faîte de sa carrière, il se retrouve emprisonné dans l'asile de Charenton afin d'y être " soigné ". Sous le regard attentif et omniprésent de l'abbé de Coulmier, qui soutient pouvoir réhabiliter cet homme, le Marquis de Sade continue ses écrits érotiques et sulfureux. Afin de transmettre les manuscrits au grand public, il est aidé par Madeleine Leclerc, une jeune et innocente femme de chambre. Facilement influençable, elle est la personne idéale pour assouvir ses fantasmes les plus fous.

L'abbé voit d'un mauvais oeil cette relation qui ne peut de toute évidence aider à la rédemption de Sade. Les provocations du Marquis irritent également le médecin Royer-Collard, qui lui retire au fil des jours ses moyens d'expression et par là même sa liberté.

Secrets de tournage

:

- Philip Kaufman, réalisateur. "J'ai toujours été fasciné par la littérature de l'extrême parce qu'elle nous ouvre à une vision plus large de l'humanité. Aucun écrivain n'a révélé mieux que Sade l'hypocrisie des soi-disant moralistes. C'est un film provocant, mais le Marquis ne nous pardonnerait pas d'être timorés."

- Dough Wright, auteur de la pièce. "J'ai tout de suite vu que Phil avait saisi la tonalité et l'humour de la pièce. Il devint rapidement un fin connaisseur du Marquis et trouva le moyen de " radiographier " mon âme et de stimuler mon imagination. Il m'aida à tourner mes discours en rhapsodies visuelles, et ne cessa d'élargir mon regard. Au départ, je craignais qu'il ne me demande de mettre de l'eau dans mon vin pour épargner les spectateurs les plus délicats. Cette crainte était infondée : l'essence de la pièce a été préservé, et Phil m'a même permis d'aller plus loin. Il m'a pleinement associé à son travail de réalisateur, me donnant l'occasion de vivre une expérience aussi rare qu'extraordinaire."

- Geoffrey Rush à propos de la réalisation. "Philip Kaufman a conféré une dimension jubilatoire et des vertus cathartiques à ce matériau sulfureux, sans oublier pour autant d'adresser des clins d'oeil malicieux au spectateur ni de s'amuser quelque peu à ses dépens."
Otras referencias


- Quiils. Mateo Sancho Cardiel, La Butaca.
- Quills (2000) de Philip Kaufman. Ricardo Pérez Quiñones, Esculpiendo el tiempo.
- "Marqués de Sade. Libertino y libertario", por Antonio Tausiet. Ser o no ser.
Ficha técnica
Otros títulos internacionales: Letras prohibidas, la leyenda del Marqués de Sade / Quills, la plume et le sang / Quills - La penna dello scandalo / Quills - Macht der Besessenheit.
Argumento: Doug Wright (teatro).
Guión: Doug Wright.
Fotografía: Rogier Stoffers (Color).
Música: Stephen Warbeck.
Producción: Julia Chasman, Peter Kaufman, Nick Wechsler, Mark Huffam, Des McAnuff, Sandra Schulberg, Rudolf G. Wiesmeier.
Productora: Fox Searchlight Pictures (presents) / Industry Entertainment / Walrus & Associates / Hollywood Partners / Charenton Productions.
Reparto:
Geoffrey Rush (Marquis de Sade).
Kate Winslet (Madeleine).
Joaquin Phoenix (Coulmier).
Michael Caine (Royer-Collard).
Billie Whitelaw (Madame LeClerc).
Patrick Malahide (Delbene).
Pauline McLynn (Mademoiselle Clairwill).
Stephen Moyer (Prouix).
Género:
Drama de época, Bioptic / Marqués de Sade, Arte, Literatura, Adaptaciones literarias (teatro).
Premios:
- 2000: 3 nominaciones al Oscar: Mejor actor (Geoffrey Rush), vestuario, dirección artística
- 2000: 2 nominaciones al Globo de Oro: Mejor actor - drama (Geoffrey Rush), guión
- 2000: 2 premios National Board of Review: Libertad de expresión, actor secundario
- 2000: 4 nominaciones BAFTA, incluyendo mejor diseño de vestuario y maquillaje
- 2000: Critics' Choice Awards: Mejor actor secundario (Phoenix). Top 10 - Películas del año
---
DVDRip Dual - AVI (XviD-mp3)
(
fuente
)
---
DVDRip Dual - AVI
(
fuente
)
---
WEB-DL HD 720p VO+S - MKV
---
Relacionado:
---
Salud.
[ Add all 3 links to your ed2k client ]