Libertad condicional
Straight Time
Ulu Grosbard
(EE.UU. de América, 1978) [Color, 114 m.].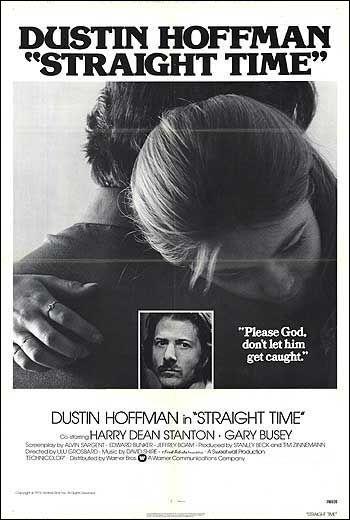 (
Wikipedia
|
Filmaffinity
)
Sinopsis
[fuente] Tras pasar seis años en la cárcel, un joven que sale en libertad condicional se propone cambiar de vida, pero el policía que lo vigila sabotea sus buenas intenciones...
En SensaCine se escribió:Después de pasar seis años en la cárcel por un robo, cuando Max sale en régimen de libertad condicional, decide conseguir un trabajo y seguir las reglas de la sociedad. Pronto vuelve a encontrase con la cárcel cuando se topa con un oficial de libertad condicional hambriento de poder, así que cuando vuelve a recuperar la libertad decide robarle el coche y volver al mundo del crimen.
En

Fotogramas

se escribió:Adaptación de una novela de Edward Bunker, empezada a dirigir por un Dustin Hoffman que fue incapaz de seguir asumiendo la doble responsabilidad. La problemática de la reinserción social de los presos es su pretexto, pero en realidad no va más allá de un convencional relato de acción. Tiene una plasmación sólida, con ocasionales momentos de inusual vigor, aunque poco incisiva.
Antonio Albert,

en

El País

, el 3 de julio de 1992, escribió:El propio Dustin Hoffman se empeñó en llevar a la pantalla la novela de Edwad Bunker (quien aparece en la película en un papelito), pero desistió a los pocos días de iniciarse el rodaje . Nunca sabremos si el actor dirigió las mejores secuencias del filme, las iniciales. La excelente labor de los intérpretes es, con mucho, lo mejor de esta cinta sensible e inteligente, aunque algo blanda para lo que supone el tema que trata.
AMG SYNOPSIS: Paroled criminal Max Dembo (Dustin Hoffman) is compelled to withstand the calculated cruelties of slimy parole officer Earl Frank (M. Emmet Walsh). The more Max tries to go straight, the more he is defeated by circumstance or hectored by the sadistic Frank. It becomes clear after a while that neither Max nor his fellow ex-cons will be able to survive looking for legitimate work. Max is too "far gone" as a human being to succeed at anything other than crime. He goes back to his old thieving ways, inveigling reformed crook Jerry Schue (Harry Dean Stanton) into helping him. A climactic "big caper" goes tragically awry, thanks in great part to the tragic flaws in Max's personality. Based on a novel by Edward Bunker, Straight Time is possibly the most realistic cinematic probe into the sociopathic psyche of the career criminal. Famed theatrical director and instructor Ulu Grosbard directed, with an uncredited assist from star Hoffman; it was their second film together, after Who Is Harry Kellerman and Why Is He Saying Those Terrible Things About Me? -- Hal Erickson

AMG REVIEW: While it rolled in and out of theaters quickly during its brief release in 1978 and hasn't gained much of a reputation since, Straight Time was one of Dustin Hoffman's best films of the 1970s, and seen today it still stacks up as one of the finest performances he's ever given onscreen. Hoffman is a fascinating bundle of misdirected energy and guy-wire tension as Max Dembo, an ex-con whose efforts to go straight seem doomed to fail, though his own impulses hardly keep him on the straight and narrow. Hoffman is perfectly natural and compelling as a blue-collar criminal, and he's lucky to have a superb supporting cast. M. Emmet Walsh has never been better as Earl Frank, a duplicitous parole officer, and Theresa Russell delivers an absorbing and ultimately heart-breaking turn as Jenny, a girl who falls in love with Dembo; Gary Busey, Harry Dean Stanton, and Sandy Baron are similarly at the top of their form here. Ulu Grosbard's direction (he took over from Hoffman, who began the project but changed his mind about directing after a few days of shooting) is lean, intelligent, and atmospheric, and the screenplay (by Jeffrey Boam and Edward Bunker, based on Bunker's novel

No Beast So Fierce

) manages to make Dembo's story tragic and believable without ever asking the audience to forgive or forget his complicity in his crimes. Straight Time is an overlooked and understated masterwork, and well worth searching out on home video. -- Mark Deming
Otras referencias


- LIBERTAD CONDICIONAL (Straight Time), Ulu Grusbard (1978). peanutbutterbananamovies.
- "In Memoriam: Ulu Grosbard", por Alberto Fuguet. cinépata.
Ficha técnica
Otros títulos internacionales: Libertad condicional / Le récidiviste / Vigilato speciale.
Dirección: Ulu Grosbard / Dustin Hoffman (no acreditado).
Argumento: Edward Bunker (novela,

No Beast So Fierce

).
Guión: Alvin Sargent, Edward Bunker, Jeffrey Boam / Nancy Dowd, Michael Mann (no acreditados).
Fotografía: Owen Roizman (Technicolor).
Música: David Shire.
Producción: Stanley Beck, Tim Zinnemann, Dustin Hoffman (no acreditado), Gail Mutrux, Howard Pine.
Productora: First Artists / Sweetwall.
Reparto:
Dustin Hoffman (Max Dembo).
Theresa Russell (Jenny Mercer).
Gary Busey (Willy Darin).
Harry Dean Stanton (Jerry Schue).
M. Emmet Walsh (Earl Frank).
Rita Taggart (Carol Schue).
Kathy Bates (Selma Darin).
Sandy Baron (Manny).
Jacob Busey (Henry Darin).
Edward Bunker (Mickey).
James Ray (Jewelry Store Manager).
Stuart I. Berton (Salesman No. 1).
Barry Cahill (Salesman No. 2).
Corey Rand (Carlos).
Fran Ryan (Cafe Owner).
Betty Jane Howarth (Employment Clerk).
David Kelly (Counter Man).
Emily LaRue (Girl).
John C. Colton (2nd Beach Boy).
John Gilgreen (Bank Guard).
Peter Jurasik (Bank Teller).
Peter Kwong (Grocery Clerk).
Tina Menard (Hotel Manager).
Género:
Drama social, Drama criminal / Delincuencia, Sistema penitenciario, Reinserción.
---
DVDRip VO+S - AVI
---
WEB-DL HD 720p VO+S - MKV
---
Relacionado:
---
Salud.
[ Add all 3 links to your ed2k client ]