La tapadera
The Front
Martin Ritt
(EE.UU. de América, 1976) [B/N-Color, 95 m.].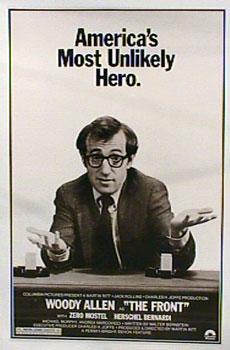 (
Wikipedia
|
Filmaffinity
)
Sinopsis:
[fuente] Evocación irónica y amarga de la famosa "caza de brujas" de Hollywood. En esa época, el guionista de televisión Alfred Miller era uno de los escritores condenados al ostracismo por sus ideas de izquierdas. Para poder seguir trabajando, ofreció dinero a Howard Prince, un excompañero del colegio, a cambio de que le permitiera utilizar su nombre para firmar sus textos. No será el único escritor que requiera los servicios de Howard como testaferro. La película fue realizada por profesionales que habían estado en las listas negras: el director Martin Ritt, el guionista Walter Bernstein y algunos actores como Zero Mostel, Lloyd Gough, Herschel Bernardi, etc. Es quizá la primera película de una de las grandes productoras clásicas, la Columbia Pictures, que denunció seriamente este asunto.
En Cine Archivo se escribió:Nueva York, años cincuenta. Alfred Miller, un escritor de mediana edad, frecuenta el bar en el que trabaja Howard Prince. Cuando se aprestan a jugar al ajedrez en uno de sus ratos libres, Miller le propone que firme los guiones para un espacio televisivo, ya que se encuentra en la lista negra debido a su ideología política. Ante la perspectiva de ver como su amigo se queda sin ingresos, Prince acepta el encargo. Si bien en un principio Prince tan sólo debía entregar por mensajero «sus» guiones, no tarda en ser reclamado por los productores del espacio de televisión para personarse en el set y atender a los requerimientos de los protagonistas, entre los que figura el cómico Hecky Brown. Entre los bastidores de la empresa de televisión, Prince conoce a la productora ejecutiva Florence Barrett, con la que a las pocas semanas empieza a mantener una relación sentimental. Sin embargo, los problemas surgen cuando Hecky Brown recibe la notificación de su exclusión de la serie por su presunto pasado filocomunista.
AMG SYNOPSIS: The McCarthy-era "witch hunts" in the entertainment industry set the stage for this comedy drama set in the 1950s. Howard Prince (Woody Allen) is a cashier at a corner bar who works as a small-time bookie on the side, with little success. One day, Howard's old friend Alfred Miller (Michael Murphy), a successful television writer, makes a business proposal to him; Alfred's leftist political views have resulted in him being blacklisted from the major television networks, and he can no longer get work. Alfred asks Howard to act as a "front" -- Howard puts his name on Alfred's scripts, sells them, and takes a cut of the payment for his trouble. Howard's new career as a "writer" is an instant success, and soon Howard is fronting for a handful of blacklisted scribes while earning a healthy income and becoming the toast of the television industry; another fringe benefit is a romance with beautiful network employee Florence Barrett (Andrea Marcovicci). However, comic Hecky Brown (Zero Mostel), who had a brief fling with socialism years before, now finds his past catching up with him, and he's told in order to save his job as host of a weekly television show, he has to get the goods on some suspicious figures, among them Howard Prince, whose background looks a little too clean for comfort. The Front was written by Walter Bernstein, who was himself blacklisted during the 1950s, as were co-stars Zero Mostel, Herschel Bernardi, and Lloyd Gough. -- Mark Deming

AMG REVIEW: The Front is not about politics. It is about survival. Director Martin Ritt, star Zero Mostel, screenwriter Walter Bernstein, and many other talents involved with The Front were victims of the Hollywood blacklist. With this film, they take their collective pain and fashion a comedy born out of desperation, history, and personal pride. They, along with lead actor Woody Allen, manage to find honest laughs in a most painful period from these men's lives. When filmmakers explain a particular injustice, the audience is enlightened; when they display that injustice happening to someone the audience cares about, viewers respond with sympathy; having that character see the mordant humor in the injustice, comment on it, and still refuse to buckle to it (even though the temptation to do so is huge) makes a hero. That is what these filmmakers achieve. Very few films are this adept at finding humor in characters whose lives are so seriously compromised. Coming from people who survived such a painful time -- people tempted by that compromise -- The Front is more than a history lesson, a comedy, or a successful group therapy session. Its existence is a validation of both art and life. -- Perry Seibert
Ficha técnica
Otros títulos internacionales: El testaferro / Le prête-nom / Il prestanome.
Guión: Walter Bernstein.
Fotografía: Michael Chapman (B&W - Metrocolor).
Música: David Grusin.
Producción: Martin Ritt, Robert Greenhut, Charles H. Joffe, Jack Rollins (no acreditado).
Productora: Columbia Pictures Corporation / The Devon Company / Persky-Bright Productions / Rollins-Joffe Productions.
Reparto:
Woody Allen (Howard Prince).
Zero Mostel (Hecky Brown).
Herschel Bernardi (Phil Sussman).
Michael Murphy (Alfred Miller).
Andrea Marcovicci (Florence Barrett).
Remak Ramsay (Hennessey).
Marvin Lichterman (Myer Prince).
Lloyd Gough (Delaney).
David Margulies (Phelps).
Joshua Shelley (Sam).
Josef Sommer (Committee Chairman).
Danny Aiello (Danny La Gattuta).
Georgann Johnson (TV Interviewer).
Scott McKay (Hampton).
Albert M. Ottenheimer.
Charles Kimbrough (Committee Counselor).
David Clarke (Hubert Jackson).
Donald Symington (Congressman).
J. Patrick McNamara (Federal Marshall).
Jack Davidson (Congressman).
Jacob Bernstein (Alfred's Child).
Joe Jamrog (FBI Man).
Joey Faye (Waiter).
John Bentley (Bartender).
John Slater (TV Director).
Julie Garfield (Margo).
Lucy Lee Flippin (Nurse).
MacIntyre Dixon (Harry Stone).
Marilyn Sokol (Sandy).
Matthew Tobin (Man at Party).
Michael Miller (FBI Man).
Murray Moston (Boss).
Norman Rose (Howard's Attorney).
Polly Holliday.
Rudolph Willrich (Tallman).
Sam McMurray (Young Man at Party).
William Bogert (Parks).
Premios:
- 1976: Nominada al Oscar: Mejor guión original
Género:
Comedia dramática, Sátira política, Tragicomedia / Caza de brujas, Cine dentro del cine.
---
WEB-DL HD 720p VO+S - MKV
---
DVDRip VO+S - AVI (DivX+MP3)
---
BDRip VO+S - AVI (X264/AVC+DTS)
[720p]
---
Salud.