This is Spinal Tap
Rob Reiner
(EE.UU. de América, 1984) [Color, 82 m.].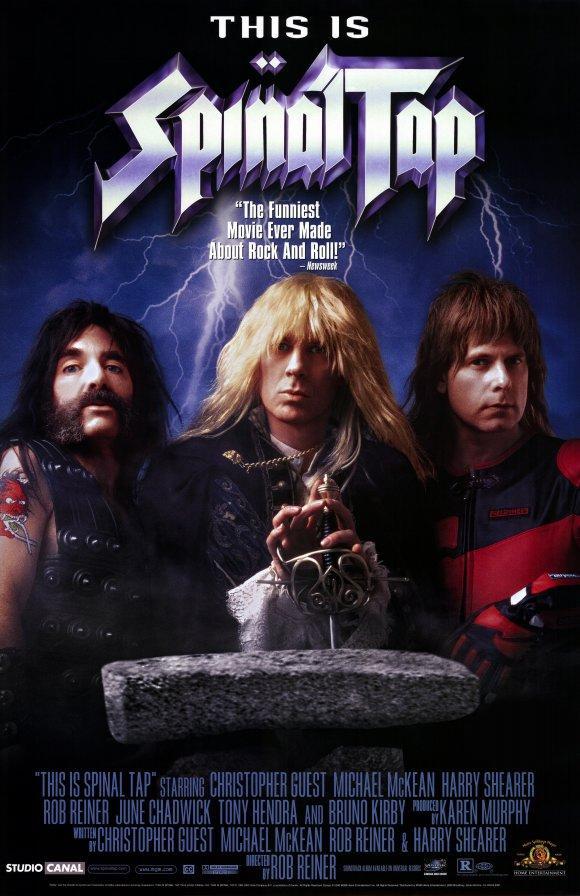 (
Wikipedia
|
Filmaffinity
)
Sinopsis:
[fuente] El grupo de "hard-rock" británico Spinal Tap hace furor. Los tres jóvenes y fogosos músicos de esta ruidosa formación vuelven locas a las chicas y llenan las salas en cada concierto. El reportero Marty DiBergi, quien los descubrió y lanzó a la fama, toma su cámara para filmar su gira. Una gira que no será como las otras…
Mikel López Iturriaga, en

El País

, escribió:Imprescindible clásico de culto de los documentales rock. La parodia definitiva sobre la desastrosa gira americana de una falsa banda en decadencia. Se ríe de todos los tópicos, bobadas y ridiculeces de ese mundo.
En HoyCinema se escribió:Hito del cine documental... que no lo es, que nos cuenta parte de la vida y obra de un grupo que nunca existió, Spinal Tap (que en 1992 editó un disco excelente, aparte de actuar en directo en festivales de manera triunfal, como en la gira del 2001), sobre el que un director quiere hacer un documental en su última gira. Spinal Tap es su grupo de heavy metal favorito y no va a desistir. Claro que el resultado sacará a la luz todas las grandezas y miserias del rock, y su grupo idolatrado, que se dedica a copiar a otros y a comportarse de manera patética... el heavy es grande pero Spinal Tap no lo es tanto, por lo que esta película provoca un amarga diversión entre aquellos que ven la música (desde el lado de autores y productores) como sólo arte y no negocio.
AMG SYNOPSIS: Largely improvised by director Rob Reiner and his cast, This is Spinal Tap looks and sounds like a "real" documentary, with Michael McKean, Harry Shearer, and Christopher Guest as David St. Hubbins, Derek Smalls, and Nigel Tufnel, the key members of a going-nowhere British heavy metal band called Spinal Tap. The "group" started as an informal skiffle band, eventually maturing into an R&B act called the Thamesmen (their hit was "Gimme Some Money"). After going through a psychedelic period with "Listen to the Flower People," the band mutated into Spinal Tap, a hard rock outfit responsible for such albums as "Intravenous DeMilo," "The Sun Never Sweats," and "Bent for the Rent." This is Spinal Tap finds them in the midst of their first American tour in years as they support their new LP Smell the Glove, with filmmaker Marty DiBergi (Rob Reiner), who specializes in TV commercials, on hand to document the occasion. Just about anything that can go wrong does: shows get canceled, stage props go wrong, wireless guitar pickups start broadcasting air-traffic reports, no one shows up for in-store appearances, David's girlfriend tries to take over the band, they wind up billed second to a puppet show at an amusement park, and the group teeters on the verge of breakup. After the film's initial release, McKean, Guest, and Shearer did a short club tour as Spinal Tap; the "band" reunited in 1992 for a new album, Break Like the Wind, followed by a full-fledged tour and TV special, The Return of Spinal Tap. -- Mark Deming

AMG REVIEW: If there has ever been a funnier and truer film about rock music than This Is Spinal Tap, no one has had the courage to show it in public. Rob Reiner's hilarious mockumentary chronicle of the misadventures of a group of intellectually challenged British rock musicians touring the U.S. manages to laugh at and with its protagonists at the same time. While the unending cluelessness of Spinal Tap's core members, David St. Hubbins (Michael McKean), Nigel Tufnel (Christopher Guest), and Derek Smalls (Harry Shearer), is a marvel to behold (especially the scene in which Nigel is baffled by the miniature pumpernickel on the deli tray), the leading characters also exude a goofy charm. As we watch their career slowly collapse around them, it's difficult not to feel a certain sympathy while laughing at their travails (it helps that they've seen enough of this coming to be more annoyed than despairing about their careers). Guest, McKean, and Shearer, who improvised most of the film's material, all did time in rock bands in the 1960s and '70s, and it seems as if they didn't forget a thing; no one who has ever been in a band, no matter how lowly, will fail to recognize the arguments at rehearsal, the on-stage screwups, the frustration of getting lost en route to a show, the thrill of hearing yourself on the radio, the chore of playing for an audience that doesn't care, and the excitement of a show that goes over. While This Is Spinal Tap takes deadly (and wildly funny) aim at the absurdities of the music business and the pompous excesses of the heavy metal scene, it's also made by people who understand the kick of a good rock show (for both performer and audience), and much of the humor comes from the fact that this seemingly absurd tale is not far at all from the truth. -- Mark Deming
En una crítica -ficticia- de

El Evangelio según Spinal Tap

, citada en la película por Di Bergi, se escribió:«Esta recopilación pretenciosa y pesada de salmos de rock religioso basta para preguntarse en qué día creó el Señor a Spinal Tap y si no podría haber descansado ese día también».
Ficha técnica
Otros títulos internacionales: Esto es Spinal Tap / Spinal Tap / This is Spinal Tap®: A Rockumentary by Martin Di Bergi.
Guión: Christopher Guest, Michael McKean, Harry Shearer, Rob Reiner.
Fotografía: Peter Smokler (Color).
Música: Christopher Guest, Michael McKean, Rob Reiner, Harry Shearer.
Producción: Karen Murphy.
Productora: Spinal Tap Prod.
Reparto:
Rob Reiner (Marty DiBergi).
Michael McKean (David St. Hubbins).
Christopher Guest (Nigel Tufnel).
Harry Shearer (Derek Smalls).
R.J. Parnell (Mick Shrimpton).
Tony Hendra (Ian Faith).
David Kaff (Ian Faith, Viv Savage).
Bruno Kirby (Tommy Pischedda).
June Chadwick (Jeanine Pettibone).
Fran Drescher (Bobbi Flekman).
Joyce Hyser (Belinda).
Vicki Blue (Cindy).
Paul Benedict (Tucker "Smithy" Brown).
Patrick Macnee (Sir Denis Eton-Hogg).
Billy Crystal (Morty the Mime).
Fred Willard (Lt. Hookstratten).
Ed Begley, Jr. (John "Stumpy" Pepys).
Howard Hesseman (Terry Ladd).
Andrew J. Lederer (Student Promoter).
Anjelica Huston (Polly Deutsch).
Archie Hahn III (Room Service Guy).
Brinke Stevens (Girlfriend (uncredited)).
Charles Levin (Disc & Dat Manager).
Dana Carvey (Mime Waitress).
Daniel Rodgers (Little Druid).
Danny Kortchmar (Ronnie Pudding).
Fred Asparagus (Joe "Mama" Besser).
George McDaniel (Southern Rock Promoter).
Gloria E. Gifford (Airport Security Official).
J.J. Barry (Rack Jobber).
Jean Cromie (Ethereal Fan).
Julie Payne (Mime Waitress).
Lara Cody (Fame Groupy).
Patrick Maher (New York M.C.).
Paul Shaffer (Artie Fufkin).
Robert Bauer (Moke).
Robin Menken (Angelo's Associate).
Russ Kunkel (Eric "Stumpy Joe" Childs).
Sandy Helberg (Angelo DiMentibello).
Wonderful Smith (Janitor).
Zane Buzby (Rolling Stone Reporter).
Género:
Falso documental, Comedia, Musical rock, Sátira / Mockumentary, Fake, Showbiz Comedy, Película de culto.
---
BDRip VO+S - AVI
(Ripeo de FitoCorleone
para Proteínicos
)
---
BluRay HD 720p VO+S - MKV
This.Is.Spinal.Tap.1984.720p.BluRay.x264-HD [4.43 Gb] (The Pirate Bay)

En la mula circulan, pero con muy pocas fuentes, dos versiones 720p con un tamaño de 4.36 GB (similar al de ésta tras eliminar el doblaje ruso).

Subtítulos: español neutro (opensubtitles) / inglés para sordos (opensubtitles) / francés (opensubtitles).
Cortesía de spaceboy74.
El contenedor matroska incluye subs en: inglés, checo, finés, francés, portugués, español neutro y sueco, en formato ass.
Cuando se reproduce la película en el PC, los subs flotantantes tienen un tono amarillo que facilita su lectura cuando coinciden con los rótulos en blanco.
Sin embargo, cuando se utiliza un reproductor multimedia para TV, los subs salen en blanco (a no ser que el aparato permita cambiar el color de fondo de los caracteres).
---
Relacionado:
Rockumentary & Mockumentary


"Soy abstemio, rockero y anarquista" (parafraseando a Kaurismäki, el rock y la comedia también son revolucionarios).

Help! (Richard Lester, 1965)
Monterey Pop (D.A. Pennebaker, 1968)
Gimme Shelter (Maysles Bros. & Zwerin, 1970)
Woodstock (Michael Wadleigh, 1970)
Anvil: The Story of Anvil (Sacha Gervasi, 2008)
Searching for Sugar Man (Malik Bendjelloul, 2012)

This Is Spinal Tap (Rob Reiner, 1984)
Forgotten Silver (Peter Jackson & Costa Botes, 1995)

NOTA: Rockumentary= documental rock. Mockumentary= falso documental.
---
Salud.
[ Add all 3 links to your ed2k client ]